Places To Visit In Udaipur
City Palace
City Palace, Udaipur is a palace complex situated in the city of Udaipur in the Indian state of Rajasthan. It was built over a period of nearly 400 years, with contributions from several rulers of the mewar dynasty.
The grand city palace towering over the Pichola lake, is one of the largest palace complex in Rajasthan. the splendid palace, originally built by Maharana Uday Singh 2nd, rises 30 meters above Lake Pichola and extends up to 244 meters. The city palace has number of small and big palaces, museums and the gardens. There are many popular palaces inside the city palace complex.
Jagdish Temple
Jagdish Temple is a large Hindu temple in the middle of Udaipur in Rajasthan, just outside the royal palace. It has been in continuous worship since 1651. A big tourist attraction, the temple was originally called the temple of Jagannath Rai but is now called Jagdish-ji. It is a major monument in Udaipur.
The main shrine houses the striking four-armed statue of Lord Vishnu, which is carved out of a single piece of black stone. The main shrine of Lord Jagdish is centrally located, encircled by four smaller shrines. These shrines are dedicated to Lord Ganesha, the Sun God, Goddess Shakti and Lord Shiva respectively.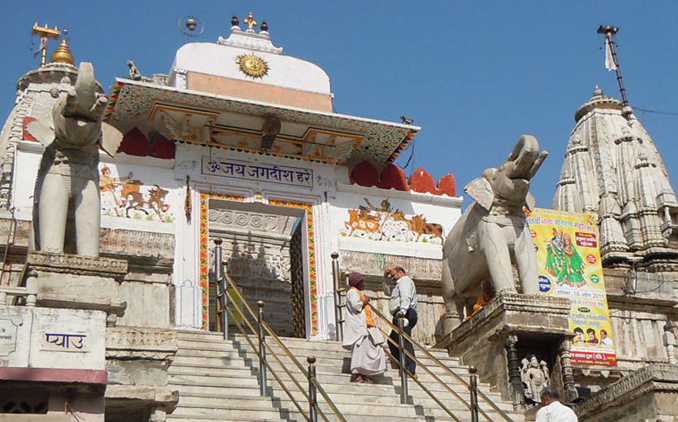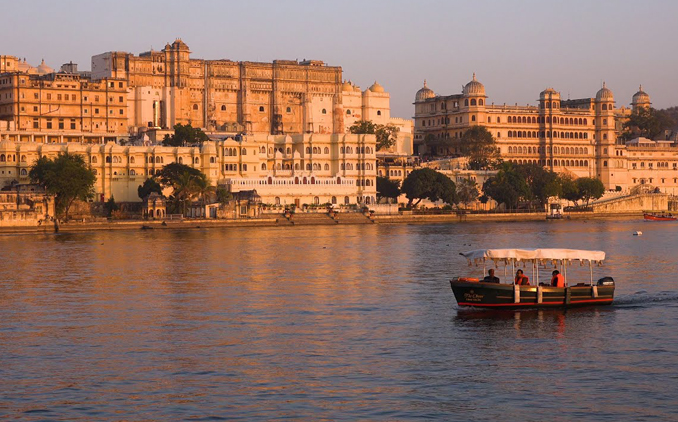 Lake Pichola
The Lake Pichola is an artificial lake located in the heart of Udaipur, Rajasthan. The oldest and one of the largest lakes of the city, the Lake Pichola observes lakhs of tourists because of its tranquility and beauty. Flanked by lofty hills, heritage buildings and bathing ghats, it is a dream come true for peace and nature lovers.
A visit to the Lake Pichola is incomplete without a boat ride, especially in the dawn. During evenings, it seems the entire place has been dipped in gold as you can see the heritage buildings and the pristine water turning golden with the sun's reflection.
Dudh Talai Lake
Doodh Talai Lake or Dudh Talai lake, is a small pond located adjacent to the Lake Pichola, near Shiva Niwas Palace, in the heart of Udaipur, Rajasthan. A small lake surrounded with beautiful, structured and precisely manicured garden with fountains and beautiful rocks. A rock and fountain garden and the sunset point from which one can enjoy the sunset view in Lake Pichhola and a panoramic view of the old city. Also one can enjoy the Aerial tramway (rope way) which connects one of the dudh talai gardens to Karni Mata temple.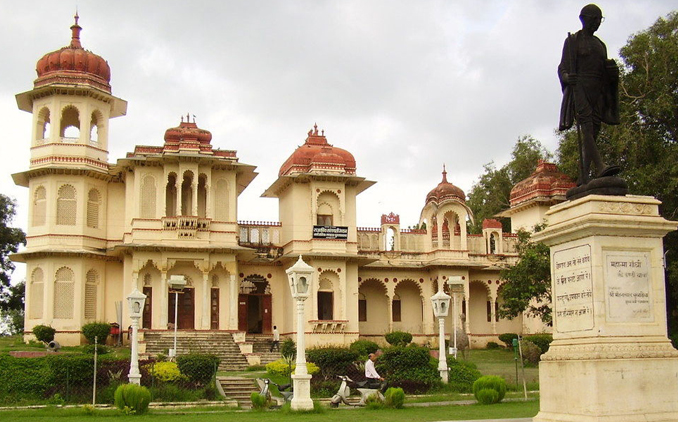 Gulab bagh
Spread over an area of 100 acres, Gulab Bagh Zoo is a must visit place for all the fauna lovers as it is one of the largest gardens in Udaipur. There are numerous things within the garden like Lotus Pond, and many prominent trees i.e. mango, guava, grapes, lemon, boar, mulberry, Rayan, pomegranate, bananas, sapota, tamarind, bullock's heart (ramphal), litchi, aging trees, wood apple, karonda, camper, citron, gammon, pomelo, Meethaneem, Karachi lime, ficus species, Anola, jack fruit, dhanverjia, ground flora, Jasmin, Dawood etc.
There is an enormous artificial water body called Kamal Talai which adds to the palace like the beauty of the Garden and a Navlakha Mahal, a religious place for parents to visit.
Vintage Car Collection
Vintage and Classic Car Museum is a car museum in Udaipur in Rajasthan state in India, having some of the rarest classic and vintage car collection. This museum is owned by Arvind Singh Mewar. Located just a few kilometers away from the magnificent City Palace Vintage Car Museum is an awesome place for automobile and car lovers .Moving away from the grand forts, castles and pristine lakes that Udaipur is so well known for, the Vintage Car Museum makes an interesting diversion.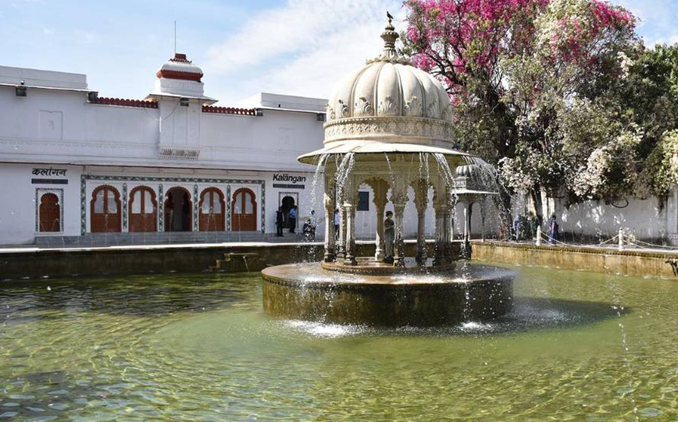 Saheliyon Ki Bari
Saheliyon - ki - Bari is a major garden and a popular tourist space in Udaipur in the Indian state of Rajasthan. It lies in northern part of the city and has fountains and kiosks, a lotus pool and marble elephants. It was built by Rana Sangram Singh. Saheliyon Ki Bari is a majestic garden in the city of Udaipur, Rajasthan, India. It is also known as the Garden or the Courtyard of Maidens. As the name suggests, it was made for the maidens who accompanied the Princess after her marriage to Maharana Sangram Singh.
Saheliyon ki Bari is an 18th-century monument which is considered of immense historical importance in India. It is beautifully landscaped with tall trees, lush green shrubbery and flower beds. This attraction is one of the few green retreats found in the dry and arid region of Rajasthan and must be included on your list of attractions to visit.