Jaisalmer Day Tour
Udaipur Journey offers Udaipur to Jaisalmer taxi for our guests who want to go on a day trip to Jaisalmer by hiring a taxi in Udaipur.
Jaisalmer Fort
Counted amongst the largest forts in the world, Jaisalmer fort is the most popular landmark of Jaisalmer city. Unlike other forts of Rajasthan, Jaisalmer fort houses museum, shops, restaurants, residential accommodations, hotels, etc. The fort was built in 1156, and is a proud chattel of the Bhati clan. Rawal Jaiswal was the founder of Jaisalmer city, and Jaisalmer fort was built in his reign. It is a 250 foot tall fort, which is protected by 30 feet long walls. The fort constitutes 99 bastions, amongst these 92 were built between 1633 and 1647. One can see the fusion of Islamic and Rajput architecture. There are 4 gateways to reach this fort i.e. Ganesh Pol, Akshya Pol, Suraj Pol and Hawa Pol. Jaisalmer Fort is situated on Trikuta Hill.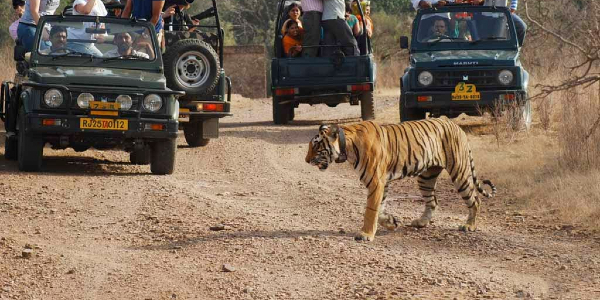 Desert National Park
Situated at a distance of around 40 km from Jaisalmer (Rajasthan), Desert National Park is counted amongst the largest parks of India. Geographically, this park covers an area of 3162 sq. km extending from the borders of Jaisalmer, the park boundary reaches close to the Indo-Pak border. There are craggy rocks, intermedial areas, compact salt lake bottoms, and fixed dunes. Desert monitors, deadly vipers, spiny-tailed lizards, Krait, and sandfish are the prominent members of the wildlife family. If you are fortunate enough to be there on time, you can even spot on Desert and Bengal foxes munching on some fresh berries. Apart from these key animals, the Desert National Park also shelters Vulpes, Blackbuck Antelope, Gazelle gazelle.
Kuldhara Abandoned Village
Abandoned since the 19th century, this small village of Kuldhara is around 18 kilometers (12.4 miles) southwest of Jaisalmer, Rajasthan. This village is dotted with hundreds of dilapidated sand stone houses and dusty roads, and the ruins of this village are said to be cursed and haunted, and consequently have obtained an air of abandonment, while beholding a dark secret, which needs to be discovered. With origins in the 13th century, Kuldhara was established by an affluent clan—Paliwal Brahmins. Once a prosperous village and home to over 1,500 people and around 400 houses, it is now a deserted and abandoned ghost village. In 1825, the people of the village as well as 83 villages nearby suddenly left collectively in the dead of night and were never seen since then. By the 19th century, all the villagers vanished into thin air.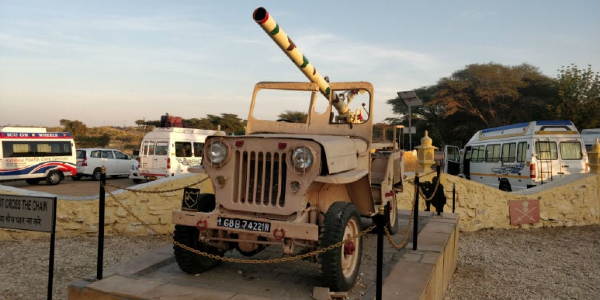 Longewala War Memorial
The Jaisalmer War Museum, popularly known as JWM is a memorable establishment dedicated to the war heroes of our nation. The Museum was ideated under Lieutenant General Bobby Mathews and developed by the Indian Army's Dessert Corps. It is a memorial to exhibit the immense strength and richness of Indian soldiers, their glorious contributions and brave sacrifices in times of war. Jaisalmer specifically was chosen for the development of the museum as it is among the few places that suffered a long stretch of wars and battles including the Battle of Longewala in 1971. The museum holds a number of collections from the wars and was corroborated and opened for people in the year 2015, the golden jubilee of India-Pakistan War. The museum includes equipment, armor, vehicles and more.